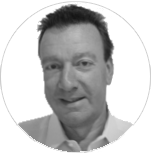 Andy Straker is SiteSeer's CTO and the person who keeps the system up and running on a daily basis. He has an interesting background and, in many ways, is the person responsible for SiteSeer's existence. Let's get to know Andy.
What was your first job out of college?
I graduated from the University of Bristol in England and got a support desk job for a software company that had a few clients in the United States. For whatever reason, I was chosen to go work with a couple of our U.S. clients to help them on various projects as the company's resident software expert. On an engagement in Florida, the company asked me to come work for them directly. I'd lived 23 years in rainy England and the idea of seeing Florida sun every day was incredibly appealing! I thought I'd return to the U.K. after a couple of years, but that was 32 years ago!
Where did you work between that role and SiteSeer?
My next job was with Scarborough Research, which was later bought by Nielsen. I wrote software for the research department. I then went to Claritas and grew to become the VP of custom application design and ended up moving to Virginia. After moving to Atlanta to join a startup wireless app services provider that created an early 'text messaging' type platform during the dot-com boom, I teamed up with a former Claritas colleague to build an in-house software package for a Boston bank. That company was called x-span results.
Eventually, my partner and I decided to build our own software rather than build software for clients, and we created Site Decision Systems (SDS), which was a site selection platform used by several large U.S. retail and restaurant chains.
How did SDS transform into SiteSeer Professional?
Along the way, I met Danielle (SiteSeer's COO) and Tom (SiteSeer's CIO), who ran the consulting firm ROIC analytics. They offered site and market studies to retailers, grocery stores and other chain businesses, and we teamed up so they could provide these services using SDS as their platform. But it became obvious that companies wanted to work with one company, not two. That's when the idea of SiteSeer was born: a site selection software company run by experienced retail and real estate analysts.
So SDS became SiteSeer!
Yes, SDS is where SiteSeer started, but the SiteSeer platform is far more sophisticated, fast, and easy to use than SDS ever was. It's been modernized and transformed and that work is ongoing. We're constantly working to make SiteSeer better by listening to our clients.
What do you do day-to-day for SiteSeer?
As CTO, my main role is software support. I help clients with technical issues and I develop our software in between those support requests. I develop new functions alongside Tom, and together, we are always looking at ways to improve our technology and upgrade our hardware. I continually assess our infrastructure and the system itself too.
Have questions about SiteSeer or requests for future releases?
Andy is your man. Reach out to him when you have feature requests or questions about the SiteSeer platform!