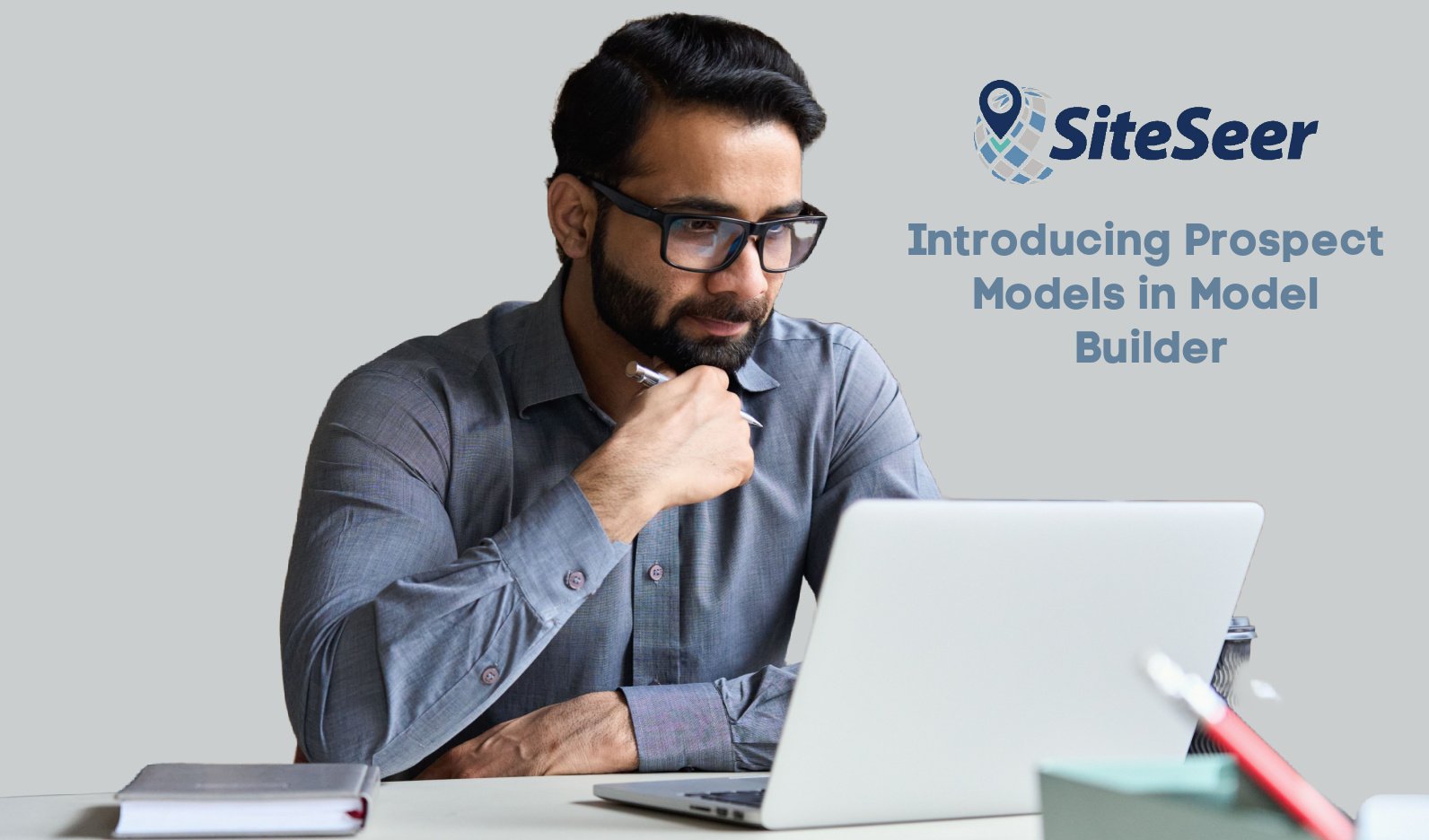 If you're a subscriber to the SiteSeer Analyst or Enterprise plan, you have access to Model Builder, one of SiteSeer's most powerful features. Model Builder provides users with the ability to analyze and screen opportunities and compare sites to their best performers.
Until now, Model Builder has been largely a tool used by SiteSeer's "power" users. To build a Site Scorecard, Checklist, or Analog Model for a retail chain, one must have a very good understanding of the chain's performance drivers and the patience to complete many cycles of test and learn until the model performs as expected. Plus, due to the numerous calculations that must take place to deploy a Model has a Hot Spot theme where you can visualize these the best opportunities on a map, model building can be a challenging and time-consuming effort.
Introducing Prospect Models
A goal of ours at SiteSeer is to bring the best in site selection and forecasting tools to retail and service businesses of all sizes and capabilities. Historically, for most of our customers, this has meant investing considerable time to become competent model developers, or contract with SiteSeer and have our professional services team build custom models for them.
An easy-to-use and lightning-fast site selection platform was always on our roadmap, but the vision and the technology were not there to make it a reality, until now.
Prospect Models Are a Better Way to Model
Launching in May 2023, Prospects by SiteSeer provides a new way to model.
Prospects was designed to allow users to find the best opportunities through immediate feedback. Users can add or remove a variable, change its range, and visualize those changes on the map in real-time. No more making changes to a model and waiting several minutes for a Hot Spot to recalculate only to discover that the results are worse than before. Prospects encourages users to ask, "What if...?"
What if we only wanted to locate in grocery-anchored shopping centers that do not already have a drug store nearby?
What if we wanted to find small towns and population centers with no general merchandise stores within 10 miles and median incomes over $50,000?
What if we raised that income threshold to $60,000?
Make your changes and watch your opportunities immediately come into focus!
Analyze Faster with the Prospects Model
Prospects Modeling is not just for retailers and service businesses that wish to find new sites, explore new concepts or find the top stores to put their new product. We designed Prospects to help real estate professionals build credibility and get deals done faster. Prospects users can schedule a video conference with a preferred client, and together they can build and refine the site selection profile in real time. Once everyone is satisfied with the model, you can save it and use it to evaluate new sites, lists of closures, or acquisition candidates.
The new Prospects Model opens up Model Builder to everyday users who are not necessarily analysts. Our development team harnessed the power of technology to deliver real-time analysis capability. The result: you can identify sites faster than ever before!
Anybody can use SiteSeer's Model Builder, and those currently subscribing to Explorer now have every reason to upgrade to the Analyst plan, which includes Model Builder. (
View our plans.
)
See Prospect Models in Action at ICSC
We are unveiling this new Model Builder model at ICSC in Las Vegas in May 2023.
Want to see how you can make adjustments to your site criteria while looking at hotspots on a map? We'll show you how it works. One small change to your criteria might impact the list of top sites for you to pursue. Maybe you've assumed that your concept will be most appealing to a certain demographic (people 45 and older with young children), but want to know what happens when you adjust that criteria to include people 30 and older without children. You'll be able to quickly see whether your hotspots change—and how significantly.
Schedule a Demo at ICSC
If you'll be at ICSC and you'd like to see this new feature in action, reach out to us about scheduling a demo. We'd love to show you what SiteSeer can do and how this feature and many other features can help you make smarter site selection decisions. Whether you are a real estate professional trying to match tenants with real estate that will help them be successful OR a retail or restaurant chain that ways to choose the best sites in a market, we can help. Schedule time with us at ICSC now.
Not going to ICSC? Schedule a demo that works for your schedule!