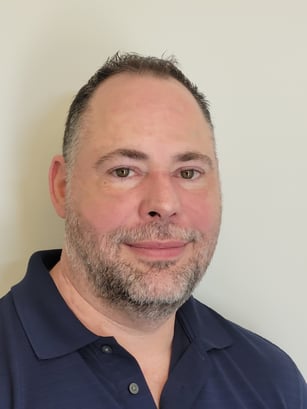 BOISE, ID | June 10, 2022 | – SiteSeer Technologies announced today that Tom Kessler, one of the company's co-founders, has been named chief product officer. Kessler has served as SiteSeer's chief information officer since the company's founding in 2016. The management change is effective June 1, 2022.
Kessler is also one of the co-founders of SiteSeer's parent company, ROIC analytics. He started his career as an analyst for what is now a large map data provider and worked for the U.S. Census Bureau. Prior to ROIC analytics, Kessler led solution development and predictive modeling at software provider geoVue and spent seven years with Albertsons as a research manager and a business analyst.
"SiteSeer is at an exciting point in our growth story, and Tom has played a key role in the journey since day one," says Danielle Yanskey, CEO of SiteSeer. "As we laid out our vision for the future, we as a leadership team came to the consensus that Tom's strength has always been developing solutions for clients and working with them closely to make sure they have the very best user experience. He will oversee the product roadmap going forward to ensure SiteSeer products deliver on the company's vision and mission."
Kessler will continue to lead the company's professional services group, which includes model development and custom analytics. Combining software and services under a single umbrella will ensure that SiteSeer provides a consistent offering that is aligned with the needs of the customer.
"I'm very passionate about helping SiteSeer users make the very most of our product, and that commitment has not changed," says Kessler. "As chief product officer, I will take a lead role advocating for clients to ensure our product strategy and design is aligned to their needs and goals. I'll be working closely with our software development team to realize the goals we have for SiteSeer Professional, which include making the product more robust, more capable and more feature-rich, while remaining easy to use."
Launched by the founders of ROIC analytics, a consulting firm for grocery and specialty retailers seeking actionable market intelligence, SiteSeer is the creator of SiteSeer Professional site selection software and Void Analysis Pro. The company was co-founded by Danielle Yanskey, Tom Kessler and Andy Straker in 2016.
To learn more and take a demo of SiteSeer, visit www.siteseer.com.
ABOUT SITESEER TECHNOLOGIES
SiteSeer Technologies, LLC, provides a suite of software, professional services, consulting and support for site selection and market analysis. Its flagship Software-as-a-Service, SiteSeer Professional, is a web-based analytics platform that helps businesses make data-driven location decisions with features and tools that include mapping, trade area analysis, demographics, customer analytics, custom reporting, analytics, model building, hot spots, site scorecards and predictive modeling tools. The SiteSeer Professional product suite also includes a real estate analytics tool (Void Analysis Pro with Retail match and Match Score) and a territory management tool (Automated Territory Optimization Model (ATOM)). Learn more at www.siteseer.com.