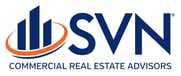 BOISE, IDAHO (PRWEB) MARCH 28, 2019 SiteSeer Technologies, creator of SiteSeer Professional site selection software, has been named a preferred vendor of SVN International Corp. SVN was founded in 1987 and is now a globally recognized commercial real estate brand.
SiteSeer first partnered with SVN Lotus, which covers southwest Florida and specializes in land, investment sales, and full representation of commercial real estate clients. Ashley Barrett Bloom, managing director of SVN Lotus, says the firm is pleased to introduce SiteSeer's tools to SVN's 200+ offices. Bloom is the chairman of the National Land and Development Services Product Council for SVN.
"SiteSeer tools help our brokers find quality tenants and much more," Bloom says. "When you use SiteSeer's Void Analysis tool, you're providing your clients a higher level of service. Void Analysis reports help us strengthen what we do for clients when we list their retail properties."
SVN will use SiteSeer's Void Analysis tool to identify retail demand gaps and fill shopping centers with quality retail tenants. The company also intends to use Retail Match Analog Model, Model Builder, demographics tools and mapping tools in SiteSeer.
"We're thrilled to become a preferred vendor for SVN," says Sam Lowder, VP of business development for SiteSeer. "Our tools and void analysis software provide what the market demands. We know that chain stores and retailers are going to do their own research on prospective tenants and that is why we have developed our tools to identify prospects for vacant space and provide users what they need to get prospects excited about those sites. Retailers and chain businesses need more than just demographic information and maps. They need data that gives them more in-depth analysis, which SiteSeer and Void Analysis can provide."
Learn more about SiteSeer at http://www.siteseer.com and Void Analysis at http://www.voidanalysis.com.
ABOUT SITESEER TECHNOLOGIES, LLC
SiteSeer Technologies, LLC, provides a suite of software, professional services, consulting and support for site selection and market analysis. Its flagship Software-as-a-Service, SiteSeer Professional, is a web-based analytics platform that helps businesses make data-driven location decisions through mapping, demographics, custom reporting, analytics, and predictive modeling tools. The SiteSeer Professional product suite also includes a real estate analytics tool (Void Analysis Pro) and a territory management tool (Automated Territory Optimization Model (ATOM)). Learn more at http://www.siteseer.com.
ABOUT SVN INTERNATIONAL CORP.
SVN International Corp. (SVN), a full-service commercial real estate franchisor of the SVN® brand, is one of the industry's most recognized names based on the annual Lipsey Top Brand Survey. With 200 offices and over 1600 Advisors and staff, SVN provides sales, leasing, corporate services and property management services to clients across the globe. SVN Advisors also represent clients in affordable housing, auction services, corporate real estate, distressed properties, golf & resort, hospitality, industrial, investment services, land, medical, multifamily, office, retail, self-storage and single tenant investments. All SVN offices are independently owned and operated. For more information, visit http://www.svn.com.