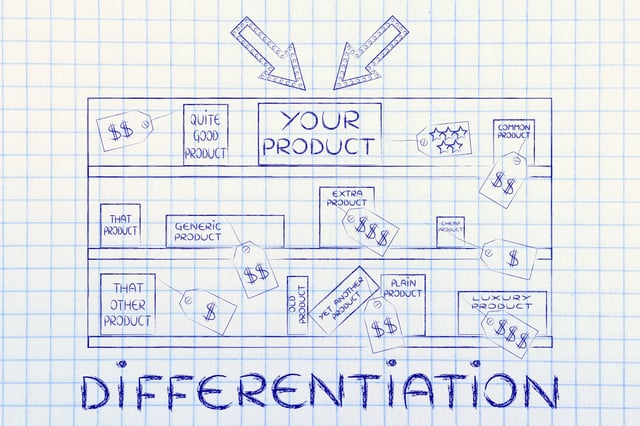 We've talked before about the surprising downfall of big retail and restaurant chains and what causes one to fall from grace. Sometimes it's a failure to keep up with the times that leads to customers losing interest (because a company simply doesn't meet their needs any longer). Other times retail or restaurant chains suffer from an identity crisis, where they once knew who they were but now seem "brand confused" and are confusing their customer base too.
JCPenney is a current example. For years, the chain was known for its great customer service, low prices, and big sales, but when the company rebranded in 2011 and tried to go after a higher end customer base without changing the store experience accordingly, sales plummeted.
Sears is another old-school retailer that didn't change with its customers. That caused them to struggle when the surge of internet shopping happened and the rise of specialty retailers like Home Depot and Best Buy stole many of Sears' customers away for those home products like lawnmowers and flat screen TVs.
Here's the reality: no matter what industry you're in, it's absolutely critical that you have a point of difference (or more than one). Your points of difference are the collection of factors that differentiate you from your competitors, and when successful, these traits lead to increased brand loyalty and sales. Put simply, your points of difference are what make your business distinct and special.
Does your company know what its points of difference are? And are you constantly revisiting that which makes your concept special? If you could use to focus on this more intently, here are a few things to keep in mind:
Be critical and objective.
It's easy to think about your business from your own perspective, but you must objectively and thoroughly evaluate your business from all angles. Is there a viable market for what you're selling and are you speaking to that audience about what you bring to the table that your competitors do not?
Focus on your competition.
You can learn a lot from your competition—make sure you take note of what they do better or differently than you (and vice versa). Do they live up to their brand promises, and if not, where are they falling short? Are there opportunities to entice their customers to explore your store or restaurant as a good alternative with something different to offer?
Don't focus on price only.
While it is true that most consumers think about price first and foremost when shopping, there are lots of other factors they weigh when choosing where to spend their retail/restaurant dollars. Don't differentiate yourself on price alone, because anyone could beat you on price. Rather, get to know your customers and seek to understand what they value most. That might be a personalized shopping experience, a great loyalty program, a hassle-free return policy, or a good value (price/quality ratio).
Be willing to change.
Life is not stagnant and retailers can't be either. While it's important to keep a keen eye on your products and pricing, it's also essential that you keep a finger on the pulse of your customer base. Are you continuing to market to the right people? Has your demographic profile changed significantly, and if so, are you still relevant?
Listen to the customers.
On that note, your customers should be a top priority. Ask them for feedback through surveys and more, and listen to what they tell you. Be willing to make changes based on what you learn. If your product/service/shopping experience has no differentiated attributes, you're making it easy for your competitors to best you.
Share your research with your front line.
In a business where your sales people or servers are the ones who have the most customer interaction, it's critical that you communicate your brand values and proposition to them. Similarly, make sure you share any data you collect about your customers and their needs with the people in your company that interact with customers each day.
There are lots of great examples out there of companies who know how to offer a differentiated customer experience and build loyalty. Here are three:
Starbucks

– Starbucks is known for a customized customer experience, allowing patrons to find their perfect drink and trust that their local baristas will get it right every time. The company is focused on quality and offering more than just coffee. Starbucks stores have a chic, relaxed ambiance that creates repeat customers, and the baristas are highly trained to bring the Starbucks brand to life.

In-N-Out Burger

– Known for a simple but delicious menu, In-N-Out is relentless about fresh ingredients, high quality, and giving customers what they want. To ensure freshness, the company refuses to open stores outside of a 500-mile radius of the commissaries where they get their beef and buns.

H-E-B

– Business Insider has called H-E-B "the best grocery store in America," and for good reason. The Texas chain does lots of consumer research to make sure they deliver what customers actually want—from the vast selection of produce to Texas-loved products and brands. As a result, H-E-B is consistently ranked high for customer service and has a loyal following in the Lone Star State. The grocer is also very supportive of its communities, as evidenced by its impressive disaster efforts in the wake of Hurricane Harvey. H-E-B has deployed relief units with food, water, and other supplies across Texas and will donate $100,000 toward relief efforts for communities devastated by the storm.
Identifying and fine-tuning your point or points of difference is essential in today's dynamic retail environment. Your business will only succeed if you know who your customers are, what they need, and how you are fulfilling those needs better than your competitors. Take your customer experience to new heights by analyzing your current customers, listening to their wants, and delivering consistently. And remember: it all starts with knowing who you are as a company.