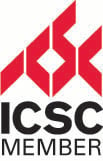 We're just a week away from the International Council of Shopping Centers (ICSC) Florida Conference & Deal Making in Orlando. The SiteSeer team will be there and we'd love to meet you!
If you're planning to attend ICSC Florida too, schedule a meeting with us. If you purchase SiteSeer within 60 days, you could get one month free!
Here's the fine print:
Pre-schedule and attend a meeting (August 28 or 29) to see SiteSeer in action during the ICSC Florida Conference and Deal Making.
If you buy a one-year subscription within 60 days, you'll get one month free!
You can also just stop by our booth (#1742) to meet our team and ask any questions. Do the demo at ICSC or schedule it within 60 days, buy a one-year subscription within 60 days, and we'll give you one month free!
Whether you're a restaurant or retail concept looking to expand or a broker or developer that wants to fill shopping centers with the very best tenants, you need SiteSeer and its real estate analytics tool, Void Analysis Pro! (Did we mention that SiteSeer comes with unlimited Void Analysis Pro reports and lots of other features?)
Let us show you how SiteSeer Professional can help you make more intelligent site selection decisions.
See you at ICSC Florida in Orlando!