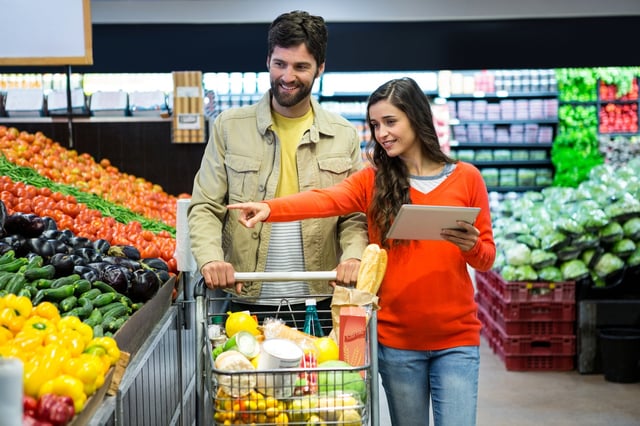 Anyone who knows us personally here at SiteSeer knows that many of our team members have worked for, and with, the grocery industry for many years. So, when the news came out recently that Amazon was seeking to acquire Whole Foods, we were intrigued and surprised.
In case you missed it, Amazon plans to enter into a definitive merger under which the company will buy Whole Foods Market in an all-cash transaction valued at approximately $13,7 billion. Of course, a lot will happen between now and the completion of the deal, like shareholder approval, regulatory approval, and other closing conditions. The transaction is expected to close in the latter half of 2017.
Like many people, we had a whole lot of questions. Questions like…
Will this deal flop or make history?
Will the grocery stores as we know it become a thing of the past?
Will this deal pave the way for an entirely new way of buying groceries for consumers?
Not to disappoint, but we're not here to answer those questions, because as we've learned from nearly 100 combined years in the world of retail, it's impossible to predict with certainty what a combining like this will bring. Years from now, this could make perfect sense or be the worst move Amazon and Whole Foods ever made. Only time will tell, but the interesting thing to us is that it's not the first time in history a big retailer has dipped not a toe, but an entire foot, into the grocery waters and raised a lot of doubt from the onlookers.
Wal-Mart + Grocery
In the mid-1980s, things were going great for Wal-Mart. The company reached $1 billion in annual sales, had 276 stores, and had opened its very first Sam's Club just a few years prior. But it was the introduction of the Walmart Supercenter in 1988 that had a lot of consumers scratching their heads. Nobody else had combined general merchandise and a supermarket for a one-stop shopping experience before, and frankly, the idea seemed a bit unusual.
However, it was one of Wal-Mart's best moves, and the company went on to enjoy one of its most profitable periods in history, opening hundreds of supercenters. Business Insider says the company became the largest food retailer in the country when its grocery sales reached $56 billion in 2001. In 1998, Wal-Mart introduced Neighborhood Markets: smaller, conveniently located stores with the same low prices as Wal-Mart's warehouse locations. The goal was to compete with traditional grocery stores…and Wal-Mart succeeded. In 2016, Wal-Mart had the largest market share (17.3%) for food and beverage purchases in the United States. Next in line was Kroger, nearly 10 percentage points behind at 8.9%.
Fresh & Easy: A Failure from the Start
At the other end of the spectrum is Fresh & Easy Neighborhood Market, the U.S. venture of United Kingdom-based Tesco, which was the world's third largest retailer until their failed plans for expansion. To much fanfare and excitement, Tesco opened its first Fresh & Easy store in California in late 2007, but by 2010 was already closing stores. By 2013, Tesco had sold all its remaining stores to Yucaipa, which in turn closed all 200 Fresh & Easy locations in 2015.
What went wrong? The company suffered from lots of problems, including cash flow and financing issues, but most experts claim Tesco didn't doing proper research into the U.S. market. They failed to get to know the preferences of U.S. customers, didn't understand how American consumers like to buy food (many disliked Fresh & Easy's shrink-wrapped produce and pre-packaged meats), and didn't carry typical American staples for reasonable prices.
Hindsight is 20/20, and it's easy to see today that another big challenge for Fresh & Easy was the competition that flooded the market at the same, including Wal-Mart and Target, which were expanding their food offerings, and Trader Joe's (this L.A. Times article does a great job exploring this). By the time Yucaipa was making plans to rebrand Fresh & Easy as Wild Oats, its natural foods brand, the grocery market had grown crowded. There was too much competition and too many problems to turn things around.
The Market Changes Constantly
None of us know what the Amazon/Whole Foods deal will bring, but it's clear that the grocer retail business is changing, just like the rest of retail. People might not purchase most of their groceries online today, but it'd be foolish to think that the industry isn't ripe for 21st-century changes like cashier-less checkout technology or a faster, more convenient shopping experience. Today's always-connected, social media-focused consumers are very different than those of 20 years ago, after all. And ironically, Amazon, the very company that made online shopping a thing, is now bulldozing its way into brick-and-mortar retail.
The point: No matter what business you're in, it's critical that you service your customers and listen to their needs. Evolve as they demand it. Certainly, keep doing what you do well, but remember to continuously seek ways to better your capabilities too. Do market research, survey customers, keep close tabs on your competition, and adjust when you need to. If you don't do your homework, you risk becoming outshined and getting wiped off the map.