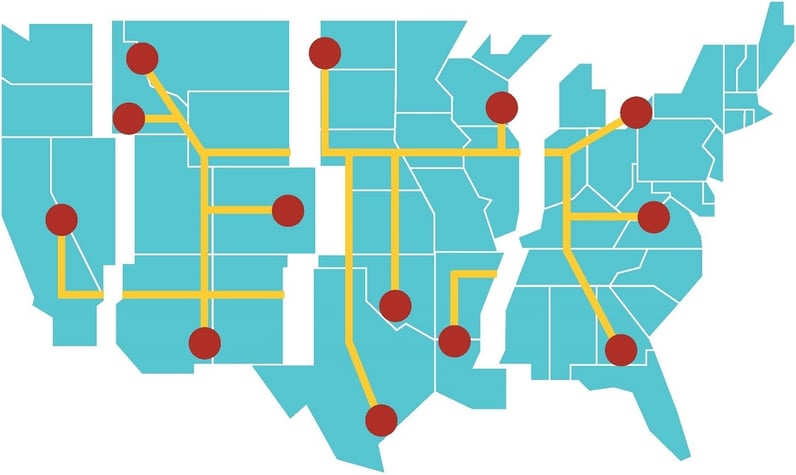 If you're a franchise organization, you know well how important it is to understand the markets into which you are expanding so you can maximize your potential and increase sales. Too often, franchise concepts come to us when they have 20 franchised locations when it would have been better to implement a consistent strategy from the start. While the shotgun approach to franchise expansion might not cause problems for a while, developing a territory plan before you sell more franchises will ensure that you don't limit your overall capacity for growth. In other words, taking a smart approach to franchise development will allow you to sell more successful franchises in the long run.
Another issue is the importance of evaluating new franchise opportunities thoroughly when they come in from existing or prospective franchisees. Having a consistent methodology gives all of your franchisees the best opportunity for success, plus it reduces the chance that you'll anger your current franchisees. Changing territory definitions when you discover that an area can support greater store density could cause an uproar with franchisees, who may then go on to badmouth your brand when they've suddenly lost part of their customer base due to your actions.
Why it's better to optimize territories from the start
If growth is your goal, sustainable growth and long-term profitability is certainly on your mind as well. Optimizing territories means defining franchise territories in a way to minimize store cannibalization and still capitalize on each market. Put simply, this process helps you grow smarter.
Following the data
Where should you start? To best the competition and make sure you're serving your markets well, you need to know:
Your most profitable customer and where to find more of them
The number of consumers needed in a territory to be successful
The types of locations and site characteristics you're looking for (or avoiding, such as competition)
The markets or regions you're looking to expand to in the next __ years
The best way to define a territory (and whether territories are open or closed or will overlap)
Whether your methodology is future-proof or will need redefinition down the road
With that information and a good territory planning software platform, you will be able to determine not only the optimal number and arrangement of territories in each of your growth markets, but also the capacity for growth across the region or the U.S. You'll earn a reputation as a strong franchise that offers franchisees great support. And you'll always have a good handle on growth potential in any market. In the long term, your sales and profitability will reflect this intelligent strategy.
Protect yourself with a solid methodology
In 2006, sandwich franchise Quiznos paid $206 million to settle a lawsuit brought by about 10,000 franchisees who claimed the company had oversold markets (among other things), making it impossible for them to succeed.
It's important for any franchise organization to not only establish a methodology for selling franchises, but continue to be transparent about that methodology with prospective franchisees. Having a data-driven approach to growing your franchise ensures your long-term success, but it also protects you. If a franchisee were to ever fail, it wouldn't be due to a poor due diligence process regarding territory planning.
At the same time, it's important to show those expressing interest in buying your franchise over another that their investment in your franchise is a wise one. Upside potential is one important aspect, but a careful territory planning methodology also proves that you help franchisees be successful from the very beginning—by using data and a solid methodology to vet and establish territories.
Don't undercut your potential
Choosing the right location might very well be the most essential ingredient for a franchisee's success—and you can support your franchisees with a data-driven strategy for territory optimization. Develop an effective process for evaluating opportunities brought by existing and potential franchisees, and define your franchise territories in a way that is defensible and consistent. Before you plan your expansion into a market, arm yourself with data about the potential of that market. In doing so, you'll set your franchisees up to succeed while bolstering your own expansion plan.