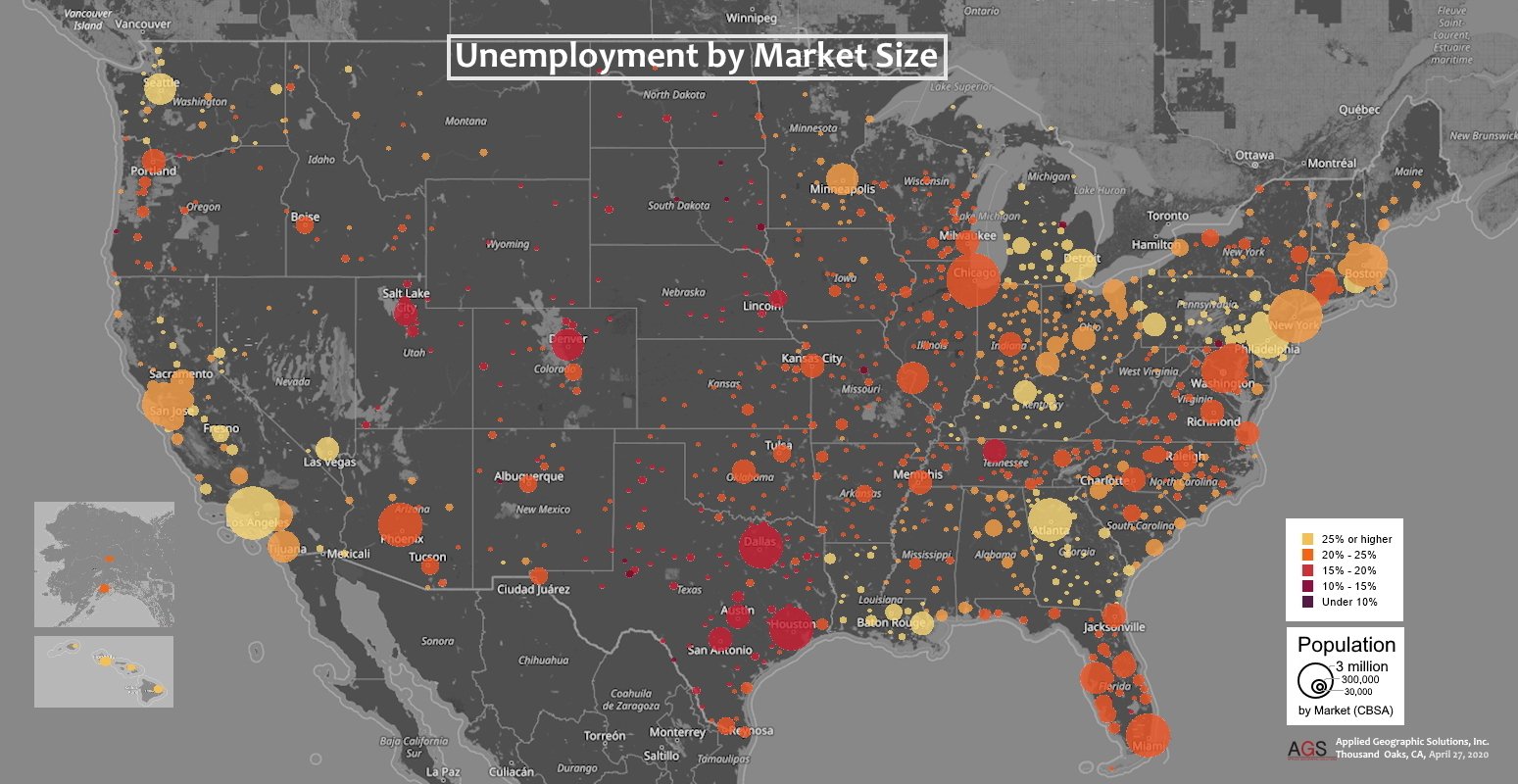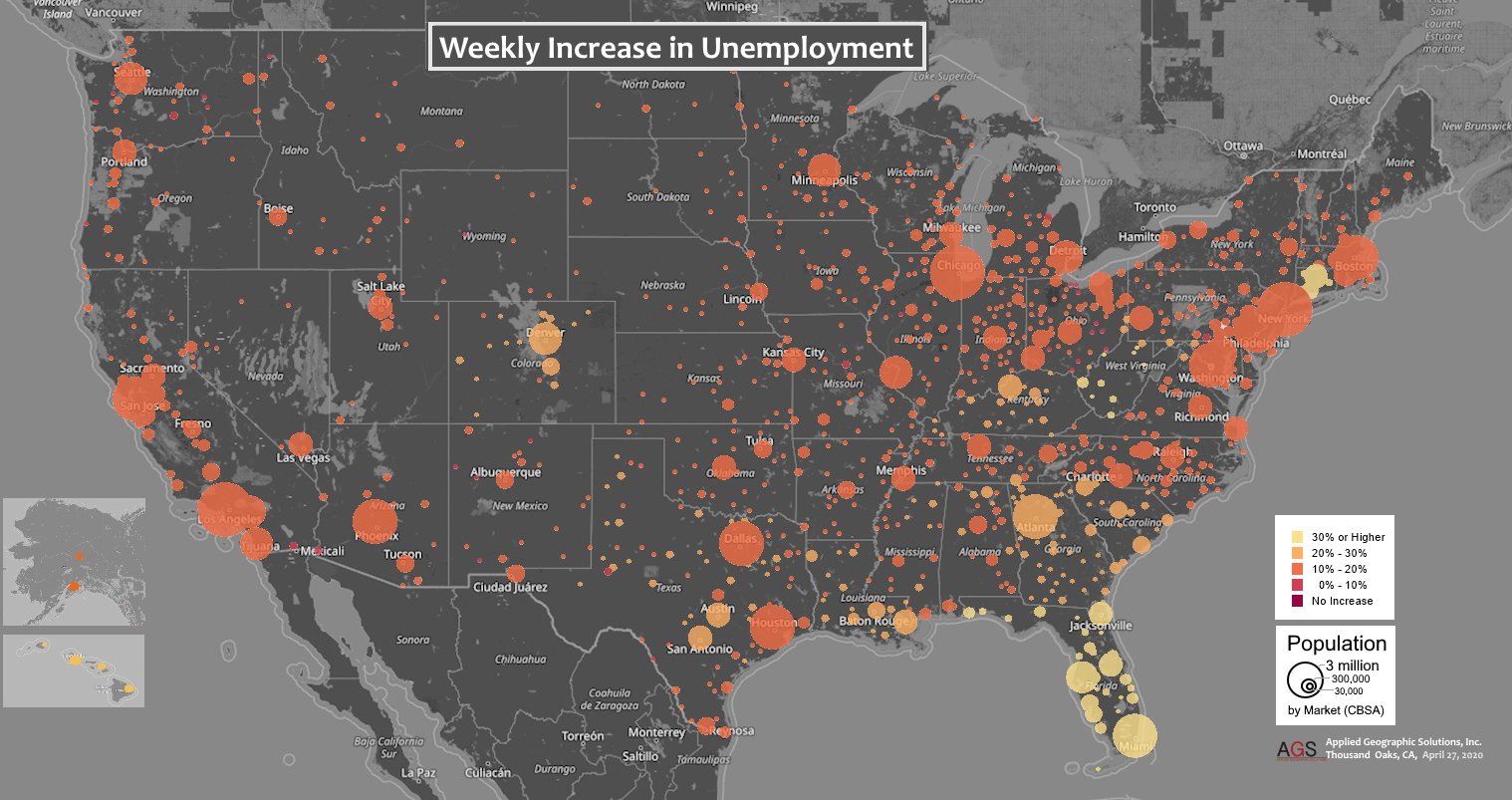 Thanks to our data partner, Applied Geographic Solutions, we're now offering free unemployment data as a layer in SiteSeer. We'll be updating this data every week on Wednesdays/Thursday. Contact us for more information.
This map offers a snapshot of unemployment figures by market. With COVID-19 sweeping the nation, it offers some interesting insights into what's going on around the country. A few observations below…
Metropolitan areas
Michigan has been hit hard. Of the top 20 metropolitan areas with the highest unemployment rates, eight of them are in Michigan. All of them have unemployment rates of 30% or higher.
The metropolitan area with the highest unemployment rate as of this week is Kahului-Wailuku-Lahaina, Hawaii, at a whopping 40.07%. This is also one of the highest movers over the week, increasing from 34.39% to 40.07% unemployment rate.
Pennsylvania has several areas in the top 20: State College (#13 at 32.7%), Altoona (#16 at 32.44%), Erie (#18 at 32.39%), Reading (#20 at 32.11%).
Nevada is also struggling. Las Vegas-Henderson-Paradise is number 6 on the list of top metropolitan areas' unemployment figures: 34.08%. This area is also up 11% from last week (30.58%).
No surprise, metropolitan areas with the lowest unemployment tend to be in states that aren't as hard hit by coronavirus and waited a while to lock down, including South Dakota (Sioux Falls is at 9.47%, which is an increase of 16% from last week's 8.19% unemployment rate). Rapid City is at 10.62%, up from 9.25% the previous week.
Several metro areas in Utah are in the bottom 20 for unemployment rate: Ogden-Clearfield (11.13%), Salt Lake City (11.65%), Provo-Orem (12.05%), and Logan (12.85%).
Micropolitan areas
As for micropolitan areas, Michigan once again is struggling with 10 of the top 20 cities with unemployment rates coming from there. The hardest hit on the list are Marquette and Mount Pleasant, both at 37.2%. Of the top seven, six of them are in Michigan.
Hawaii's Kapaa tops the list of micropolitan areas, with a staggering 42.9% unemployment up from 36.8% last week. Also in Hawaii, Hilo is #8 on the list, at 34.8%.
South Dakota dominates the list of micropolitan areas with the lowest unemployment rate, with the nine of the lowest 20 cities all in South Dakota—and all under 13.0%.
Small town Texas is holding up better as well, with seven of the 20 micropolitan areas with the lowest unemployment rates from there.
We'll share an update each week for a while. Knowing this information might help you understand how different areas are responding to the coronavirus outbreak from an economic standpoint. It's difficult to know for certain why certain areas are experiencing higher unemployment than others, but it's very likely related to factors such as:
Tourism and a high number of service jobs
State mandates regarding quarantine, lockdown, stay at home orders, etc.
How early and aggressive each state's leadership ordered lockdowns and shut down businesses.
Industries that dominate the state.
If you're planning ahead for 2020, it's useful to know what the data shows so you can tighten up your store base and plan smart for the future.
If we can help, contact us.