It's that time of year when those of us in the business of retail real estate research are looking backward at the year prior. What retail categories grew? Which ones shrank? SiteSeer's data partner, ChainXY, provides insights into over 4,500 chains in the United States and Canada. We dug into their three broad areas (retail, restaurant and services) to collect a snapshot of how chains that existed on January 1, 2019, grew or shrunk over the year.
Here's how the categories within each fared:
Retail
Topping the list of growth between the end of 2018 and end of 2019 was agricultural equipment and supply. And at the bottom of the list was mass merchandise, which lost 464 stores from 2018 to 2019.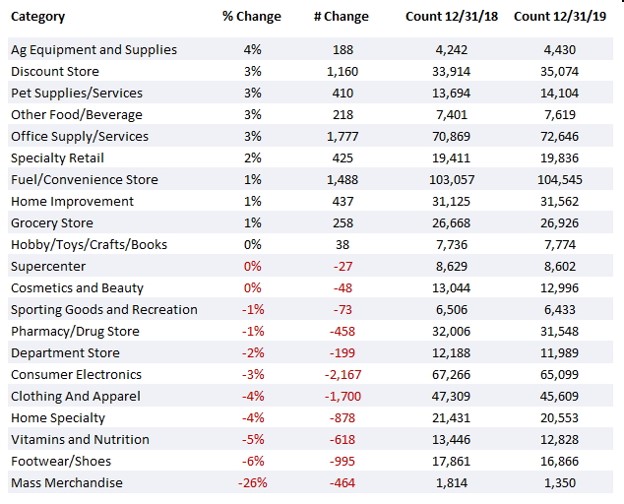 Restaurant
Generally, the restaurant category fared better than most in 2019, with all ChainXY restaurant chain categories except quick service adding locations.

Service
Lastly, in the service category, the car wash business topped the list of new adds, while the loan and pawn business struggled a bit, losing 149 locations.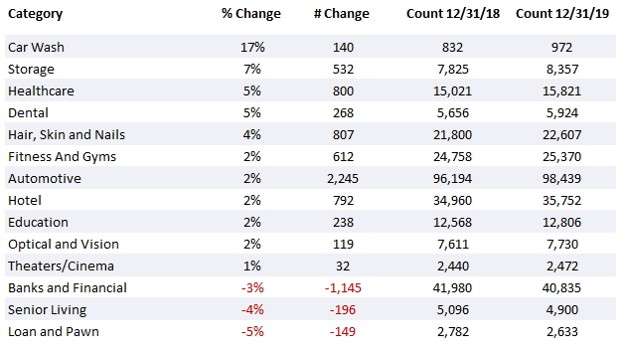 Want to learn more about ChainXY and how this data solution provides great insights into the chains across North America? Visit our ChainXY data page or request a demo. We'll share more about SiteSeer powered by ChainXY and what this data type can do for you.