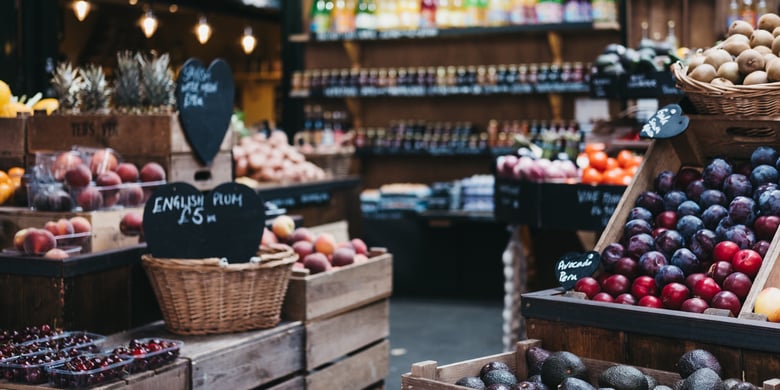 If you're at all connected to the grocery business, you've probably seen the headlines about natural and organic grocery chains closing their stores:
Earth Fare, one of the largest natural and organic food retailers in the United States, announced February 3, 2020, that it would close all 50 of its stores.
Lucky's Market, the organic food store "for the 99%" announced that it was closing 32 of its 39 stores on January 21, 2020, then filed for Chapter 11 bankruptcy just a week later. It is selling the remaining seven stores.
Fairway Markets announced its filing for chapter 11 bankruptcy on January 23, 2020. Fairway is known as a unique food retailer and offers an extensive selection of fresh, natural and organic products and foods. The New York chain filed bankruptcy four years ago as well.
With our management team all having worked in the grocery industry for a long time (and still serving grocery retailers as SiteSeer users and professional services clients), here are some of our observations:
The "digital natural market" landscape has changed the game.
For many natural and organic grocery chains, vitamins and other health supplements were a big part of their square footage and sales revenue. As online shopping became big, shoppers could easily get those items from Amazon and other e-retailers or even places like Costco.


Natural and organic products are now mainstream.
Once upon a time, organic and natural foods were specialty items that weren't easy to find in your regular neighborhood grocery store. But the market has changed, and the big chains like Kroger and Publix have entire sections dedicated to natural products (and per the point above, vitamins and supplements too). Organic and plant-based products are readily available—the same products, even. It seems that shoppers abandoned stores like Earth Fare when they discovered they could get their favorite gluten-free bread, organic produce and vitamins at their traditional grocery store.


There is such a thing as expanding too fast.
Both Earth Fare and Fairway took on private equity investors in recent years. Grocery Dive wrote a great column that digs into this recently, and shared that Fairway took 70 years to build four stores then began opening one a year after an investment partner bought an 80% stake in 2007. Earth Fare tripled its growth across two private equity owners.
Competition emerged from unexpected places.
Larger, conventional grocery chains started offering more natural and organic products, but competition came from other places too. Meal kit delivery services like Blue Apron and Hello Fresh have come out of the woodwork, as have online food delivery services like UberEats, with some estimates suggesting online food delivery is an $82 billion industry (revenues). As the world has evolved in the digital age, grocery chains have had to do the same. Those that don't adapt are likely to struggle, which could have been the case here—or at least, a contributing factor.

Site selection matters.
No matter what business you are in, understanding your customers and what they need is absolutely critical for expansion success. Did these chains build locations in areas that had enough concentration of their best customers, or did they expand without really assessing trade areas effectively? Did they understand their competition well enough? Was their concept still working, or were they losing customers for a long time to their competition that was offering the same products at a lower price?

Lessons Learned from the Failures of Natural Organic Grocers
There are lessons to be learned from these recent closures, no matter what type of retail chain you operate. In general, it's always important to remember these truths:
Your concept might not be as unique or special as you think it is.
You must continuously ask yourself this question (and be honest with your answer): how easy is it for a new or existing competitor to start doing what I do?
Have you differentiated yourself enough to justify customers choosing your store (or restaurant or service) over another—now and for the foreseeable future?
The biggest takeaways of all are that it pays to do your homework upfront when expanding and to assess your market continuously. Need a tool to help you? Check out SiteSeer. We help chain customers in many different industries plan markets effectively and invest in better site selection.