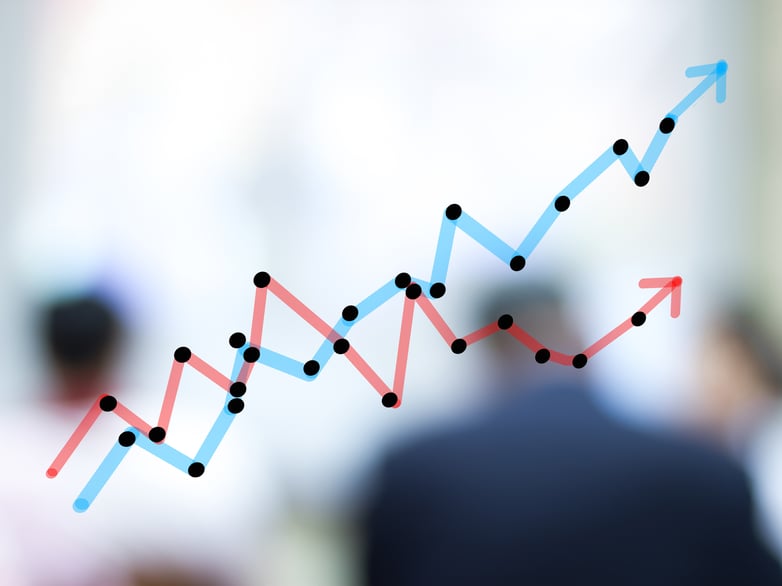 When many retailers build predictive models to predict sales and overall performance of a store or business location, they spend a lot of time assessing demand, asking themselves a variety of questions:
Who wants what they're selling?
What drives their choices (e.g. demographics, spending patterns, shopping patterns, etc.)?
Where are their best customers located?
Often, these same retailers spend very little time assessing their competition. Whether they take the stance that all competition is bad and avoid competitors altogether, or do the opposite and ignore competition, accurately understanding the competitive landscape can be the difference between a top-performing store/location and one that struggles.
It's understandable. It's harder to get a hold of competitor intelligence and it isn't as easy to understand how to use the data to properly assess the strength of competition in an area. At best, companies might rely on their gut feel to "score" competition or count the number of competitors or competitor square footage in an area. These approaches often fall short of what is necessary for creating an accurate sales forecasting model.
Enter Competitive Assessment Models
In early 2019, SiteSeer implemented a new software feature, called the Competitive Assessment Tool. This tool utilizes a custom model designed specifically to address the challenges of measuring competition.
Measuring impacts
Most companies measure competitors' impacts in one of two ways:
They consider competitors to be in or out. For example, a company has three competitors in the trade area.
They weigh competitors. For example, if a company's one out of three competitors is closer to the site they're considering than the other two, then the closer competitor gets more weight than the other two. This approach assumes distance decay. In other words, the further a person gets from a site or store, the less likely they are to visit it.
The shortcoming of this approach is that it ignores two important factors: where your customers are in the trade area and where intervening opportunities are.
If most of your customers are on the west side of the trade area, but the competition is on the east side of the trade area, those customers will drive by your store to visit the competition, likely resulting in a higher number of visits to your store. If the reverse is true and customers must drive by five competitors to get to your store, that will likely cost you visits. SiteSeer's Competitive Assessment model solves for these shortcomings by calculating trip likelihood for each customer (origin) and each store (destination).
Competitive strength
For most concepts, convenience or distance required to travel is an important consideration in choosing one competitor over another. The other part of the equation is the attractiveness of the competitor. Sometimes called "image," "strength," or "weight," this measure of a competitor's ability to pull dollars is equally important in determining the degree of competitiveness of an area.
SiteSeer's Competitive Assessment Model assigns strength values to each store based on a thorough evaluation of how stores typically perform around competitor brands and types. A natural/organic grocery store might find that Whole Foods has five times the pulling power or strength as a small independent farmer's market.
Adjust the model based on field work and your local knowledge
As good as your tools and data sources are, you are going to encounter competitive situations during your field work and market research that require you to make adjustments.
Perhaps your third-party competitive dataset doesn't include a small but powerful competitor or a new opening from one of your biggest competitors. Maybe a certain competitor has a headquarters in your current market and performs much stronger than usual. The Competitive Assessment Tool allows you to override any of the assumptions of the model, including which competitors are considered, where they are located and how strong they are in your current trade area.
The art and science of competitive assessment
Although the Competitive Assessment Tool doesn't replace the need for a competitive intelligence program, it helps make sense of the data you do collect. We recommend that all companies identify and assess their competitors using an objective process. This doesn't mean that your company won't encounter new competitors or businesses that you didn't know were a competitor until you located near them. The key is to have a process for measuring competition and improve on it as your knowledge improves.
Whether you believe that experience and gut feel have no place in the forecasting process or if you want to control every assumption in your models, the Competitive Assessment Tool provides a science-driven approach to measuring competition and its effect on store performance.
Make sense of your competition
The reality is that assessing competition, like assessing customer demand, is a complex endeavor. How can you make sense of it all? With SiteSeer's new Competitive Assessment Modeling tool and other location and customer intelligence tools. Contact us to learn more.