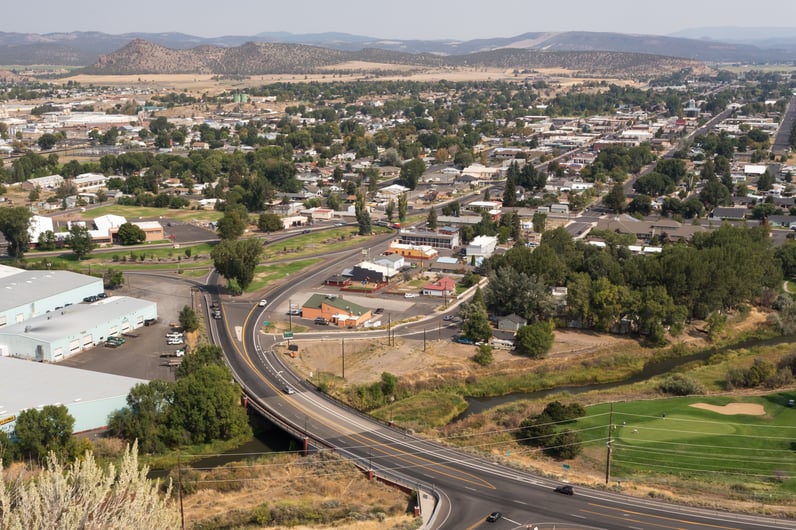 Back in November, we assessed the top 16 fastest-growing large micropolitan areas in the United States. In case you need a refresher, a micropolitan area is defined by the Office of Management and Budget as a labor market area in the U.S. centered on a city with a population of at least 10,000 but fewer than 50,000 people. This is opposed to a metropolitan area, which has at least one city with a population of 50,000 or higher.
When we dove into this research back in November, we decided to divide things up into large and small micropolitan areas:
A large micropolitan area is one with a population over 50,000 – For example, a city of 25,000 people with a micropolitan area of 85,000.
A small micropolitan area is one with a population below 50,000 – For example, a city of 15,000 with a micropolitan area of 46,000.
Now that we shared the top 16 large micropolitan areas, let's zoom in and take a peek at the top 15 small micropolitan areas—those with population below 50,000:
#15: Williston, ND
Between 2012 to 2015, Williston—as well as nearby Dickinson, ND—was one of the fastest-growing micropolitan areas in the nation, with a thriving economy thanks to its position as a hub to the Bakken oil play. Williston has lost some of these gains in recent years as the oil industry has slowed, but earns an honorable mention on our list due to the area's overall growth in the past five years. This growing economy is eager to bring new retail and other business to the area. Learn more on the City of Williston website.
#14: Newport, OR
Approximately 120 miles from Portland on Oregon's spectacular central coast, Newport is located within Lincoln County. It's received accolades for being a great place to live and vacation, and the economy is pro-business, seeking to cultivate businesses in many different industries. Lincoln County's Economic Development Alliance shares lots of information and resources for businesses interested in the region.
#13: Kill Devil Hills, NC
Located in Dare County on the Outer Banks of North Carolina, Kill Devil Hills has seen tremendous growth in recent years. Tourism is the main driver of the economy, but the Outer Banks region has also seen an increase of small manufacturers, retailers, restaurants and more. In early 2017, the county teamed up with the Outer Banks Chamber of Commerce to implement an economic development strategy to create new opportunities for the community.
#12: Sandpoint, ID
Known for its nearby Schweitzer Mountain Ski Resort and Lake Pend Oreille, the largest lake in Idaho, Sandpoint is indeed a beautiful place to live and play—but it offers a lot for businesses too. It is home to thriving industries like aerospace, biomedical, software development, food production and manufacturing as well as companies like Quest Aircraft, Biomedical Innovations and Litehouse Foods. Learn more about the city's and state's efforts to retain, grow and attract jobs on the City of Sandpoint website.
#11: Lewisburg, TN
Set in the hills of Marshall County in southern middle Tennessee, Lewisburg is just 50 miles from Nashville and 57 miles from Huntsville, AL—about five miles from I-65. The city is home to several strong industries, including automotive, aerospace and defense, manufacturing, food and beverage, and plastics and chemicals. Learn more on the Lewisburg Economic and Community Development website.
#10: Los Alamos, NM
Home to the Los Alamos National Laboratory, Los Alamos has many exciting things going on. In 2015, the National Park Service and Department of Energy authorized the opening of the Manhattan Project National Historical Park and the Valles Caldera National Preserve also opened, bringing attention—and visitors—to the area. Learn more about the county's economic development initiatives.
#9: Othello, WA
The largest community in Eastern Washington's Adams County, Othello is considered the gateway to the Columbia National Wildlife Refuge. Agriculture is its main industry. The Adams County Development Council is an ideal place to learn more about the opportunities for retailers, restaurants and other businesses.
#8: Spearfish, SD
In the Black Hills of South Dakota on I-90 is Spearfish, approximately 45 miles from Rapid City. The low cost of doing business combined with the favorable tax structure—no state personal income taxes, corporate income taxes, personal property taxes or business inventory taxes—make this a business-friendly town stabilized by the third largest university in the state. Learn more.
#7: Fredericksburg, TX
Fredericksburg is the seat of Gillespie County, located in the heart of Texas Hill Country. It's 75 miles west of Austin and 65 miles north of San Antonio, close to U.S. Highway 87, Texas Highway 16 and I-10. Several industries are growing quickly: agriculture and tourism, aviation maintenance, metal fabrication and specialty food and beverage. Learn more about development from the Gillespie County Economic Development Commission.
#6: Summit Park, UT
Just 15 minutes from Salt Lake City along I-80 and 10 minutes from Park City is Summit Park, located in Summit County. The county is eager to welcome expanding businesses and offers all kinds of research and support on its economic development website. Here's the latest retail marketplace profile too.
#5: Cullowhee, NC
In Jackson County, amid mountains, rivers and creeks is Cullowhee. This town is home to Western Carolina University, which is driving demand for housing, business and retail. Cullowhee has experienced continued growth for decades and the town is currently revitalizing the Old Cullowhee Road area. A greater Cullowhee Vision Plan lays out the county's steps to shape the future of the community and provide a solid infrastructure.
#4: Pecos, TX
Texas continues to lead as a state with several growing cities and a great place to do business, even in small towns like Pecos. Pecos is in West Texas along I-20 and has long boasted a strong ranching industry, but has seen significant growth of the oil and gas industry. The Pecos Economic Development Corp. shares details about the trade area population, retail trade submarkets, current projects and business landscape.
#3: Ellensburg, WA
Just two hours from Seattle and three hours from Spokane, Ellensburg has several reasons for its fast growth, including the growth of its college, Central Washington University. From 2015 to 2016, Kittitas County, where Ellensburg is located, was the 10th-fastest growing county in the country. The low sales and use tax rate and Washington tax incentives may have helped this area's growth as well.
#2: Prineville, OR
Prineville is the oldest community in Central Oregon. The Economic Development for Central Oregon is currently focused on recruiting several industries to the area, including high tech, biotech, recreational/outdoor equipment and apparel, brewing and distilling and data centers—both Apple and Facebook built data centers there in 2010 and 2012, respectively.
#1: Heber, UT
Topping the list is Heber. This hotspot has racked up the notables in recent years: a fast-growing small town (Forbes), a top 50 hottest little boomtown (Money magazine) and a top place to live in the West (American Cowboy magazine), to name a few. The town is 45 minutes from Salt Lake City and 20 minutes from Provo and offers many recreation opportunities. Learn more about Heber Valley's population, average household income, and other workforce data at the Heber Valley website.
As you plan your next expansion, it pays to look not just at large metropolitan areas, but some of the bustling markets a little off the beaten path. Maybe your next perfect site is in one of these towns or their surrounding areas. If you need help finding your next market or site, try SiteSeer. Our platform can provide the facts you need to meet your expansion goals. Reach out to schedule a demo today.
Have an idea for our next study? Email us at support@siteseer.com. Data sourced from STI: PopStats