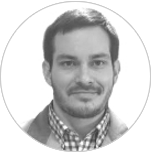 If you're an existing SiteSeer user, you've likely talked with Lance before, our director of client services. Lance knows SiteSeer software inside and out and has that, "If I can't get you the answer, I'll find out who can," type of attitude that makes him the best kind of client advocate!
Meet Lance and learn all about his background.
Are you a native Idahoan?
I am! I was born and raised in Castleford, Idaho, which is about two hours from Boise. After high school, I left for college, but I've lived in Idaho other than that. My family farms barley, hay, corn and potatoes and my parents also have a trucking company that ships many different products across the Northwestern United States.
What is your pre-SiteSeer background?
I've been with this company for most of my career. I went to Montana for college and graduated in 2010 with a dual degree in business (management and economics) and psychology, right during the Great Recession! It was a difficult job market, so I returned home to work on my family's farm for about two years. In 2012, I got a job in Twin Falls, Idaho, for a company called KickBack Rewards Systems, which developed loyalty cashback programs for convenience stores and has since expanded into retailers too. I was one of the trainers that got new clients up and running and showed them how to get their customers engaged in the program.
So, that first job was in retail customer data collection essentially.
Yes. This company was founded in 1999 and was doing something you saw with grocery stores, rewarding customers for their loyalty while collecting data about them. That customer information about their demographics, where they lived, what they spent their money on and their shopping habits was valuable to them, and it really did open my eyes to how important this kind of market research data is to a consumer-facing business.
How did you end up at ROIC analytics, the predecessor to SiteSeer?
Idaho, and especially where I grew up, is a small place where it seems like everybody knows everybody! Sam, our VP of business development is also from Castleford, and his aunt, uncle and cousins lived across the street from me growing up. He lived there while he was going to high school, although I was in elementary school at the time. His mom worked for a convenience store that my family owns and our moms got to talking and introduced us. And the timing was right for me to join ROIC analytics.
What was your role at ROIC analytics?
Initially I did a little of everything. I really learned the ins and outs of ROIC analytics, which did market research consulting for retailers and other chain businesses. The world of commercial real estate was new to me so I learned it as I went, and helped out wherever I was needed. Eventually, I became focused on sales and marketing.
What did you like about the company?
It really opened my eyes to how much goes into opening a business location. Many times, there is someone or a team of people behind that store or restaurant or business running models and analyzing forecasts, and I found that to be really fascinating.
Tell me about the founding of SiteSeer from your view.
As ROIC analytics, we were finding that most companies didn't want to work with us as consultants and a different group of people as experts on the software platform we used to create their models and other analytics. By then we had partnered with Andy Straker's company, x-span, to use Site Decision Systems, but it was clear early on that not having an in-house software to put our models into was not ideal. That's when we decided we needed to form a company where we could still sell our market research services to retailers and other chains as well as real estate professionals, but also deploy them in a software that was usable for clients.
Was SiteSeer always going to be a platform that your clients could use on their own?
Yes, that was another important goal too. In my job working with our clients, I found that people didn't just want a report and a map to look at and put in a file. They wanted to have access to a platform so they could analyze information in different ways and customize things themselves. Our development team made SiteSeer flexible from the start so that there are tools for the power user or the person who really just wants to run demographics. If you want to just push a button and get a report, you can. But if you are looking to our professional services team to offer their insights and you have in-house people who will be using SiteSeer extensively, it is going to be robust enough for them too.
What is your role today as director of client services?
I onboard new users and I'm in charge of software support as they get used to using the system. Some clients are using SiteSeer "out of the box" and are up and running quickly, while others like large retailers might need major customization, so I'll work closely with them to make sure we get everything just how they need it. So, I work with our customers, whether they are having trouble figuring out how to do something in SiteSeer or they are looking to expand their features.
What do you like about your job?
It is really fun to have clients come to us with a problem and no idea how to solve it and then put SiteSeer into their hands and see their excitement when they realize that our tool can help them. They are so happy to learn about all of our great data sources and everything they didn't know they could do, and it feels great to see them excited about how they will improve their operations with our tools.
All eyes are on Idaho these days, with the explosive growth. As someone who was born and raised there, any thoughts on this from a development standpoint?
The growth brings some good, some bad. On the bad side is the increased traffic because this is Idaho, and we just don't have that infrastructure in place, even in Boise. For the economic developers in the cities and communities here, that's a big issue to solve since we're seeing such an influx of people and their vehicles. From a retail standpoint, it is exciting because more retailers will come here because we have the population to support the business now. That's good for the economy, the people who live here and those businesses. But there's also the huge shortage of housing to deal with and the cost-of-living increase. Homebuilders can't seem to build housing fast enough. I think we're not the only market in the country experiencing these sorts of issues, but it's definitely interesting to watch and there are lessons to be learned from it.
What's a fun fact about Lance?
I like woodworking. I make side tables and serving trays and things like that and I'll gift those to people around the holidays. I have a little woodshop in my garage. My grandfather is a woodworker too and that's how I got into it.
Have a question about SiteSeer? Need help with the platform? Contact Lance.