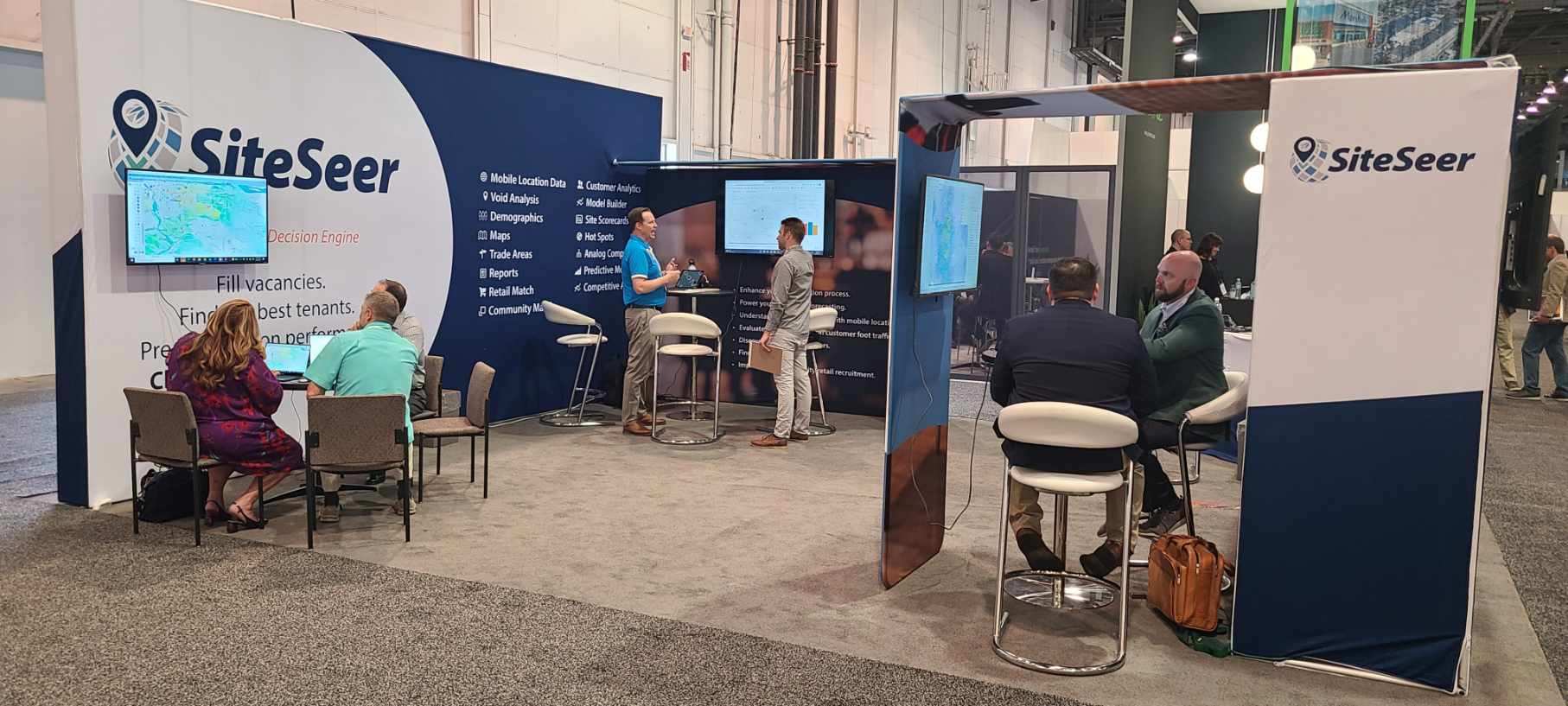 The SiteSeer team just returned from ICSC 2022 in Las Vegas this week and what a great experience after two years of virtual conferences. We enjoyed seeing longtime colleagues and clients and getting to know so many new people too. Thanks to everyone who came by to learn more about our suite of site selection and market analysis tools!
We're in reflection mode and thought we'd offer up a few observations about what we experienced this week:
People are ready to do business.
The people we met seemed serious about making deals and evaluating vendors (SiteSeer included!) We'd venture to say we had more serious prospects this year than in any years past. COVID-related delays for this convention mean that those who did attend were intentional and focused about why they were going to ICSC.
Follow up is going to be essential.
Consolidation within the research industry led to some confusion on what vendors provide what services! So, if attendees were looking at research providers at ICSC, they need to do their follow-up homework carefully to make sure the vendor really offers value-added research services they need, not just what the vendor is promoting. It's essential that you make sure a vendor understands your needs and doesn't just know how to "pitch" their own tools.
Sales teams who know their products well make the whole process easier.
At SiteSeer, we feel it is essential that our sales team on the ground at ICSC is as knowledgeable about the product as the people who build and develop it behind the scenes. Why? This helps companies make the right decisions faster because they understand the real estate and retail development business. We noticed the importance of this at ICSC, especially this year as companies emerge out of COVID and into a unique marketplace with new and different challenges.
Relationship building never goes out of style.
COVID forced us all online, even against our will! But regardless of the digital age in which we live and the fact that we can just about everything in a virtual environment, it's clear that people in this industry appreciate face to face. The connection you made 10 years ago at ICSC or the person you made friends with in the Starbucks line this week might be the next person you'll want to make a deal with. We're so excited about making new connections and seeing old friends.
The market is tumultuous and top of mind for everyone.
The volatility of the stock market…the sky-high cost of construction materials and labor…inflation (will it ever go down?!)…staffing challenges in every industry…these were just a few hot topics at ICSC. Everyone, from retailers to developers to service businesses, is wondering what is going to happen in 2022 and beyond. And while none of us have the answers or a crystal ball, it's truer than ever that analysis and planning is important.
Whether you were an exhibitor or an attendee, pat yourself and your team on the back for a show well done. We were happy to be there and excited to see the energy in the Las Vegas Convention Center.
If you were at ICSC and didn't have a chance to stop by our booth, or you didn't make it this year, no worries. We'd be happy to connect for an online demo. Reach out and we'll fill you in on what SiteSeer has been working on in the last two years!
See you all next year.