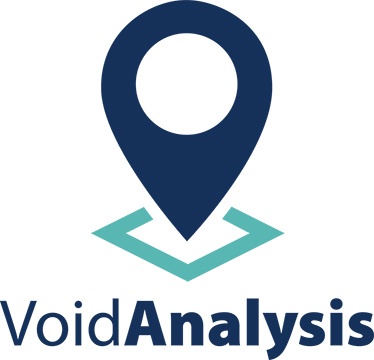 And why do brokers, developers and other real estate professionals need one?
Are you a shopping center owner or developer that is leasing space? Are you a real estate broker working with a retail chain to find their next location to open a new store or site? If so, you need Void Analysis, SiteSeer's real estate analytics tool.
What is Void Analysis?
Void Analysis is a tool that analyzes a trade area and identifies the gaps in certain types of retail or service businesses.
The origin of the Void Analysis
Originally, "void analysis" was defined as a process to identify tenants that were "void" in an area/trade area. The earliest and simplest void analysis reports that we used and saw in the market were meant to find retailers that did not operate in a site's trade area. Years ago, the SiteSeer team recognized this—that traditional void analysis reports were overly simplistic and didn't address the primary question that retailers meant to address: which tenants are most likely to choose my shopping center and be successful there?
That's when we created the Void Analysis tool and founded voidanalysis.com.
How does Void Analysis work?
In SiteSeer, Void Analysis is a standalone tool or part of your SiteSeer subscription. It uses data from our third-party sources, including ChainXY, Synergos Technologies (STI: PopStats data), Retail Tenant Directory and others.
When you enter the address of a potential site, Void Analysis provides you with a list of retailers (or other businesses) that are missing from the trade area. Void Analysis also looks at 2) the types of markets and neighborhoods that prospective tenants prefer, and 3) typical cotenants that those tenants like to co-locate with, and 4) provides an overall rating (called a match score) of how good a site is for a particular retailer.
How is that match score calculated?
The match score that Void Analysis gives is a proprietary algorithm. It uses site and trade area metrics to determine how well a site matches the tenant's typical location profile (or the other criteria they put into Void Analysis). It's a score of 0-100, which 75+ considered high—meaning, a tenant or retailer rated 75 has historically in an area similar to the site you've run the Void Analysis on. A tenant with a score of under 50 doesn't typically locate in sites like the one you are analyzing.
You can prioritize opportunities with Void Analysis.
This is important and one of the biggest "favorite features" of Void Analysis by SiteSeer! You can compare a site to sites of other chains that are similar to yours (or chains you aspire to be like). If you're filling a shopping center, this means you save time by prioritizing the types of tenants you recruit (and only going after those that would be a good fit). If you're a broker representing a business, it means you won't waste time on sites that don't match their criteria.
You'll get full site packets.
Void Analysis Pro reports are very detailed, and provide you customized site packets with market data, site match scores, consumer spending in that trade area, and demographic data. These site packets are great for recruiting retailers and far more detailed than what the competitor void tools offer!
Use Retail Match to find your next winner.
With a SiteSeer subscription that includes unlimited Void Analysis, you also get Retail Match, which give those recruitment packages something extra. Retail Match lets you search millions of retail locations and their trade area profiles to find locations that are similar to the site you're analyzing. So, you can run a Void Analysis report on a vacant space to figure out what kinds of businesses choose similar sites and then use Retail Match to compare individual locations of different retailers or other chains.
If you're a broker, this is a game changer. It means you can approach retailers with a report that shows them how your site matches their requirements and what traits the site has that match traits of other locations of theirs!
You can try Void Analysis before you subscribe to SiteSeer + Void Analysis.
There are two versions of Void Analysis:
Void Analysis report: $199.99 – This Void Analysis report offers you a list of prospects in a DMA, state or other geographic area that are not located in your defined area.
Void Analysis Pro report: $299.99 – The Void Analysis Pro report also offers match score, co-tenancy information and a retail gap analysis.
Option #3: subscribe to SiteSeer and get unlimited Void Analysis Pro reports! When you subscribe to our SiteSeer Explorer, Analyst or Decision Maker plans, you get Void Analysis Pro too…as many reports as you want!

Contact us for a demo of SiteSeer Professional and Void Analysis. Or buy your report today!