Location, location, location! There's a reason real estate pros joke that the three most important factors in a piece of property are the exact same thing.
In retail, a location can make or break a business. The "right" location can positively impact your sales, bolster your marketing and advertising efforts, and much more. The wrong location, on the other hand, can cause you lots of headaches—or worse, put you out of business.
Location Intelligence Case Study: Joe's Pizza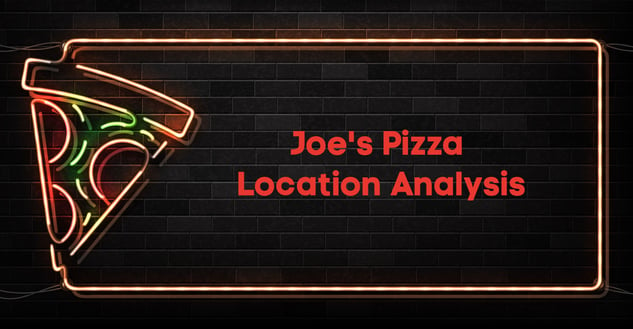 For illustration purposes, let's take a look at a fictional business, Joe's Pizza, located in Joetown, USA. Joe's Pizza had one successful location and wanted to capitalize on that success by opening up another one in a different part of Joetown. Location #1 had been open for two years when they leased a new site (more about that in a moment). Location #1 averaged the following annual profit and costs over that time:
| | |
| --- | --- |
| Revenue | $800,000 |
| Rent/utilities | $90,000 |
| Labor | $275,000 |
| Food costs/packaging | $200,000 |
| Marketing/advertising | $40,000 |
| Other/operations | $75,000 |
| EBITDA* | $120,000 or 15% EBITDA margin |
*Earnings before interest, taxes, depreciation and amortization
Joe's Retail Site #1: A Win Overall
Joe's Pizza's first location has all of the attributes that you want for a pizza restaurant, and in some ways, they got lucky—choosing a site without a lot of upfront research. The site is in a part of town with many newer homes and young families, not centrally located, but with plenty of the right types of customers. It's on a busy street and easy to get to from that street (e.g., no weird entrance to the parking lot).
The parking lot has plenty of spaces, and while the business shares the lot with a couple of other retail businesses, the parking lot always has plenty of spots.
How about the customers? Location #1 of Joe's Pizza has lots of target customers within an easy drive, with several new-build neighborhoods within a few miles that attract couples in their 20s and 30s, many with young children. There is another pizza restaurant a mile away, but it is takeout only and pizza only. There are other pizza restaurants in the area too, but Joe's has perfected its recipe to attract pizza aficionados. They also have pasta and salads on the menu. All that means that people who want to go out for pizza and live within a few miles often choose Joe's.
Joe's Location #2: Higher Walkability, Higher Rent
For its second location, Joe's Pizza leased a site in Joetown's central shopping district, a charming part of town with shops and restaurants and a main street that people like to stroll. This site is a 15-minute drive from the other Joe's location, so there was a low risk of sales cannibalization. A new site…with new customers. Win!
Although it's a smaller site (5,000 square feet compared to 7,500 square feet), the owners didn't analyze foot traffic data, but rather, felt confident that this "hip" location would attract more customers throughout the day. They assumed that the proximity to a few downtown businesses would make lunch a busier time than at location #1, which has a much busier dinner hour (and slower lunch hour).
The new site was more expensive to lease ($115,000 annually vs. $90,000 at location #1). There is no designated parking lot, but there are plenty of paid parking lots and street parking that is free (when available).
Based on the history of the other site and some other assumptions, Joe's Pizza forecasted these numbers for location #2:
| | |
| --- | --- |
| Revenue | $1,000,000 |
| Rent/utilities | $125,000 |
| Labor | $250,000 (smaller store, fewer employees) |
| Food costs/packaging | $275,000 (assuming more lunch revenue) |
| Marketing/advertising | $40,000 (same as location #1) |
| Other/operations | $125,000 (older building, more maintenance) |
| EBITDA* | $185,000 or 18.5% EBITDA margin |
12 Months In, Joe's Pizza #2 is Struggling
In its first year of business, Joe's Pizza location #2 had disappointing results and made the following observations about why:
Sales were lower. The forecast of $1 million in sales was off, with actual sales coming in at $600,000. A smaller lunch crowd than expected and a slower dinner hour during weeknights were the culprits. Weekend revenues have been stronger, but the smaller footprint means less seating for diners—and lower dinner revenue.
Initial revenues were delayed. Joe's grossly underestimated the length of time it would take for customers to give them a try and become repeat diners. It also appears that their target customer might not dine in the downtown area during the work week at all. This they didn't anticipate.
Advertising efforts seemed ineffective. Joe's spent the same amount on marketing for location #2 initially, but it still seemed ineffective at generating a buzz and attracting new diners. Customers who did dine at Joe's seemed to find them in other ways. So, they spent more to market their new location, but it didn't seem to help bring in more customers.
Parking quickly became an issue. The lack of a designated parking lot quickly became a challenge that Joe's didn't foresee being as problematic as it was. Although takeout business was a small percentage of their forecasted revenues, actual takeout was much lower than anticipated. And although the downtown location (and high foot traffic counts, Joe's assumed) was a big attraction for the space, the lack of parking seemed to hurt business regardless.
Bottom line, Joe's actual results after year one were dismal, with its new location losing $100,000.
A Few Best Practices in Location Analytics
What could Joe's have done differently in their retail site selection analysis? Lots of things! Here are several:
☑️Analyze their potential customers.
Joe's failed to analyze the trade area around the new site well to determine whether it had enough of their potential customers, using demographic data from store #1's customers. Those demographics would have told them that location #1 had less of their target customers. That insight would have helped them determine whether they could expand their customer base or whether the site was too risky to be successful.
☑️Get a better understanding of the neighbors and other businesses nearby.
Joe's is one of a dozen restaurants on the main street, but many are clustered together at the other end of the street. What they assumed initially was an advantage (being alone at the other end of the street) now seems like a possible negative (perhaps people didn't know they were there). They assumed that the popular neighboring retailers (a clothing store, a coffee shop, and a shoe store) would naturally attract customers, but didn't account properly for their reduced hours on weekends and at night. It would have benefitted Joe's to get a sense of all of this and not just look at their competitors, but the businesses nearby and how they might affect Joe's business.
☑️Analyze the site more thoroughly.
Joe's was aware of the parking situation, but assumed that foot traffic would solve all challenges in that regard. However, it would have been wise to analyze that foot traffic data and the site and all of its features, not to mention get a better understanding of those who frequent the shopping district and their habits. That location intelligence could have helped them figure out how to overcome the challenges of the site.
☑️Analyze the competition.
Competitive analysis is critical for any restaurant or retailer. There are several other restaurants downtown too, but few casual restaurants, which led Joe's to assume that the desire for pizza would be high—especially among those who worked nearby. However, they disregarded their nontraditional competitors, like the food court at the other end of the main street and the employee cafeteria in the six-story building with most of the business professionals they assumed would visit Joe's at lunchtime more often than they do.
The Cost of a Poor Location is High
This overly simplified hypothetical example leaves out a lot of details, but you get the point: choosing bad location can cause your business to struggle or fail completely.
You might suffer from lower sales, delayed revenues, higher costs that you didn't anticipate and damage to your overall business profitability (due to the lagging new location).
By contrast, the investment in site selection software on the front end is well worth it. A site selection and market research software platform like SiteSeer is an investment in your long-term success! You can develop a strong growth strategy based on data, not guesswork or gut feelings. Want to see how our location intelligence platform works? Contact us for a demo. We'll show you how you can mitigate your risk and choose locations with the best chance for success.